April 4, 2023
Category:

Success Stories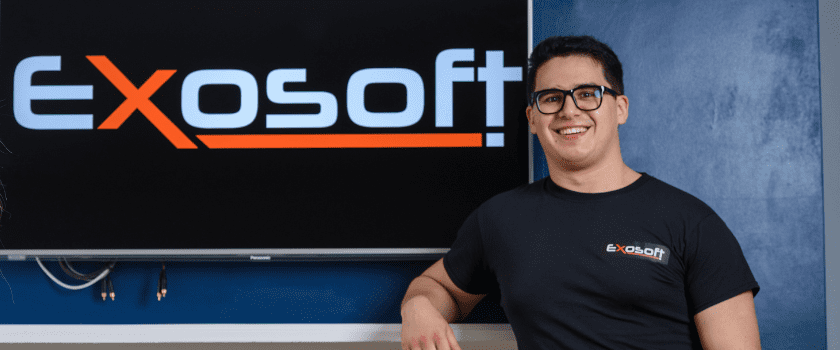 Success Story – Exosoft
A chance meeting with Westcotts at a local networking event in Devon proved to be invaluable for small South West software engineering firm Exosoft.
For the company's co-director and co-founder, Joe Wahab, the introduction to Westcotts' partner Patrick Tigwell was the start of their journey with the firm of chartered accountants and business advisers.
Joe says, "I spoke to Patrick who put me in touch with the right members of his team to help us perform an audit for our recent completion of an Innovate UK smart grant application.
"The terms of the funding meant we had to conduct an audit of the finances, and it was great that Westcotts were able to support us with this."
Devon-based Exosoft creates software which improves the speed, accuracy, and oversight of their clients' core business processes. They have, for example, recently helped a B2B wholesaler by automating their manual data entry, effectively freeing up a full-time member of staff entirely.
Exosoft's approach involves careful consultation with clients, cutting through the jargon to deliver commercial results.
The Innovate UK smart grant funding is available to UK registered organisations to apply for 'game -changing and commercially viable Research and Development (R&D) innovation that can significantly impact the UK economy'. Exosoft secured a grant of nearly £87,000 to help their business grow.
Westcotts' Audit and Assurance team was appointed to complete the audit for the funding for Exosoft.
Joe, a MPhys Physics graduate from the University of Exeter, says, "The team at Westcotts got in touch with me to arrange a meeting in person to make sure that everything was in place to successfully complete the work.
"Not only was everyone at Westcotts extremely friendly, but they were efficient, thorough, and responsive. Any question we had about the audit process was answered in a timely and clear way."
As a leading firm of chartered accountants and business advisers in the South West, Westcotts is an audit firm of choice offering a strong and growing team of experienced specialist auditors with expert knowledge.
Patrick Tigwell says, "There is a lot of work involved in an audit and it can take a fair amount of time. Firstly, we had to complete due diligence checks for Joe and his co-director Sam, establish the requirements of the grant offer letter, source samples for evidence, check grant expenditure for accuracy and then provide an opinion for the audit."
Organisation and accuracy are key when it comes to an effective audit says Patrick, "Time is often of the essence in providing audits for grant applications because of the deadlines involved, so being organised, efficient and accurate is really important."
The audit for Exosoft took Westcotts around a month to complete.
Patrick adds, "Excellent communication with the client is also vital – Joe was particularly good at this and with providing us with information in a timely manner. He's very friendly, down-to-earth and didn't want to complicate matters."
"Explaining and making sure that the client understands why we need certain pieces of information or evidence really helps to speed up the process and Joe was extremely responsive, and it was a pleasure to work with him."
The funding secured by Exosoft from Innovate UK has enabled the company to make great strides in the development of their innovative database technology.
Joe adds: "Our mission is to democratise the gains businesses can make in scale and speed through software. This funding has given us better capability to help a wider range of businesses realise these gains."
Joe, who has over seven years' experience managing hardware and software projects, says, "The team at Westcotts completed the audit ahead of schedule and made me feel like a valued and important customer. I would like to thank Patrick and Westcotts for their excellent service."
Shona Godefroy, managing partner of Westcotts adds, "Whether it's applying for a grant, completing an independent review, or a full statutory audit, our partner-led approach to audit and assurance can be tailored to the individual needs of our clients. We were delighted to be able to help Joe and his team at Exosoft with their audit for the grant funding from Innovate UK."
For more information about Exosoft, contact Joe via LinkedIn or visit their website. To discuss your audit and assurance requirements with Westcotts, get in touch.