Environmental Social Governance
At Westcotts we are committed to operating in a socially responsible way. It is an important aspect of doing business that matters to an ever wider group of stakeholders – our employees, clients, suppliers and the communities in which we operate. We're conscious that everything we do needs to be viewed with environmental and social responsibility in mind. We strive for excellence in this area – just as we do in our business services.
There are four main focus areas through which we look at ESG:
Community (the impact the firm and our people have on the communities in which we live and work);
Environment (the environmental impact that we have);
Marketplace (how we interact with our clients and suppliers); and
Workplace (people management processes that ensure our staff work in an environment which promotes health, safety, equality of opportunity, training and development, and performance management).
We have a well-established ESG team comprising of partners and employees from across the firm. They actively develop and review our ongoing ESG activity and act as "cheerleaders" to ensure our wider teams are equally involved. The team regularly speak on ESG matters to clients, potential clients and the wider community.
Our aim is simple: to embed a strong social responsibility approach in every aspect of our business.
Community
We understand our responsibility to the communities in which we work, and are committed to fully engaging with them. We encourage our people to become actively involved in community projects and also to use their professional skills where appropriate for the benefit of our local communities.
We have a nominated Charity of the Year for whom we actively raise funds through firmwide activities. It is a great – and inspiring – focal point throughout the year for many of our people. Our 2022 charity was Alzheimers UK and we had a team take part in a long-distance sponsored walk.
In addition, many team members are engaged as trustees and volunteers in a wide selection of different charities, from small local groups to causes with a regional or national footprint.
We also make a number of presentations throughout the year, free of charge, to trustees and officers of charitable bodies to help them improve and better understand their role and responsibilities.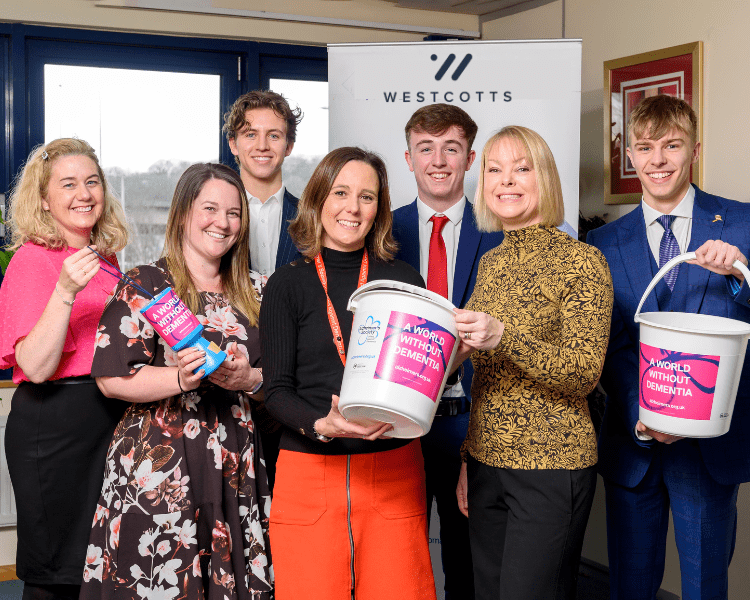 Environment
Westcotts are committed to continuously evaluating our environmental impact and to working with outside organisations to achieve further improvements.
We have been working for some time to reduce our level of CO2 emissions and are establishing a benchmark carbon footprint against which our future efforts can be assessed. That key step of sourcing our electricity from a 100% green supplier was taken in 2020 and the importance of this should never be underestimated.
Paper and travel are also key to our efforts and we are making use of the latest technologies to drive reductions in these areas.
All of our team members actively encourage the recycling of paper, cardboard, glass, plastic and metal materials to reduce waste and lower our environmental footprint.
This commitment to environmental sustainability is communicated to clients and helps them decide upon their own strategies.
At recent agricultural shows we started to move away from plastic giveaways to include more sustainable items such as oak tree saplings.
Marketplace
We recognise that the way we act for our clients and treat our suppliers and contacts makes a statement about our values and our place in society.
We act for a wide variety of clients and fully commit to accommodating any specific client needs that may arise from gender, disability, race, religion, beliefs, age or sexual orientation. We will not refuse to act for a client, nor to contract with a supplier, on any such discriminatory grounds. Every member of the firm is expected to comply with this policy and any allegations of discrimination will be taken extremely seriously.
We are proud that the understanding with which we engage with clients, combined with our reputation for discretion, sensitivity and pragmatism, has created an environment in which we build long term relationships that flourish.
Workplace
Our people are our most valuable asset: they are critical in enabling us to provide exceptional service to our clients. It is key to us, therefore, that we attract, retain and develop talented people of the highest quality. To achieve this, we are committed to open and equal recruitment, based exclusively on ability and potential. The same applies to promotions internally. Our watchwords are fairness, equality and merit. This is emphasised through the resources we commit to Diversity Equality and Inclusion.
We fully recognise the need to continually develop and stretch our people, and commit to investing in their accounting, taxation and other professional skills. We also place great emphasis on providing all our people with access to internal and external training and development opportunities. Most of our learning occurs on the job – and therefore regular upward and downward feedback is encouraged at all levels.
Of course, development is more than just professional skills. We also provide weekly training on a whole variety of personal matters such as Financial Wellbeing, Mental Health Awareness Week, and Menopause at work. In addition we have established and trained a network of mental health first aiders across the firm.

Every one of our people, including partners, is appraised at least once per calendar year, giving them the opportunity to discuss their own progress and to receive constructive feedback from their manager.
We encourage people to apply for work experience with us and for future trainees to apply for training contracts. We carefully read and consider all CVs sent to us.
We fully recognise the benefit of a sensible work/life balance for all of our people. For the majority of our roles, we offer a variety of flexible working hours patterns, locations and options including term and home working. Regular reviews of how we work are completed including staff surveys so that we are constantly able to match business and individual needs.
We have a formal health and safety policy, which underlines our commitment to maintaining a safe and healthy working environment.
We were proud to achieve the Investors In People standard back in 1996 and have maintained this ever since. The latest re-accreditation was in 2021 when we were awarded the Silver standard and celebrated retaining our Investors in People accreditation for 25 years.