November 28, 2022
Category:

Blog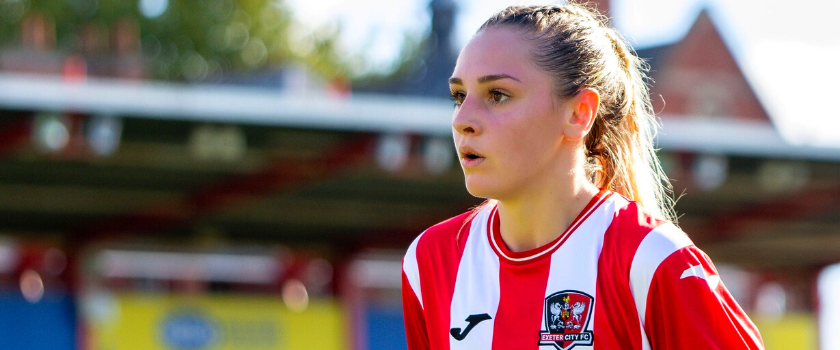 Meet the Team: Trainee accountant 'scores' success with Westcotts
Westcotts' Jenna Markham is keeping up with her training – both on and off the pitch.
When she's not working towards her accounting technician qualifications, the 18-year-old is practising her skills with Exeter City Women's Football Club.
AAT Trainee Jenna, based in Westcotts' Axminister office, signed up to join the successful female team two months ago, having already played for Bridgwater United FC Women.
Within just a few weeks of joining Exeter, Jenna, who plays striker (in a number 18 shirt) scored two goals in a much-anticipated match against AFC Bournemouth.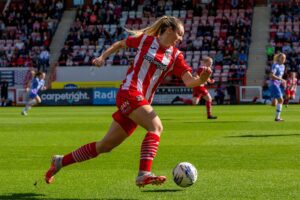 The game, played at Exeter City's home ground, St James Park, drew a record attendance of around 3,000 fans.
Jenna says it was an incredible feeling to have been part of her new team's triumphant 3-1 win, a pattern she hopes will continue throughout the season.
"It's just a really friendly environment and the team have got so much support behind them," said Jenna, who has been playing football since she was four years old. "To see the crowd there at the match last month was really exciting. I definitely think women's football is having a moment – 100 per cent. It's a great time to be playing."
Jenna, who lives in East Devon, manages to balance her football training with her day job as an Association of Accounting Technicians (AAT) Trainee with Westcotts.
She joined the firm in August and has been enjoying the chance to learn on the job, while studying one day a week at college.
"I like every aspect of it," said Jenna. "I've always liked maths and I especially like problem solving.
"Like anything, starting out was a bit overwhelming at first but now I've been here a while, it's all starting to make a lot more sense!
"The team here are all really nice and they've helped me to settle in.
Jenna hopes to work towards her Level 2 and Level 3 accountancy exams, gradually building her career – and scoring more goals in the meantime, of course.
"I'm managing to fit it all in," said Jenna. "I think playing football helps with time management and I find the busier you are, the more you can get done."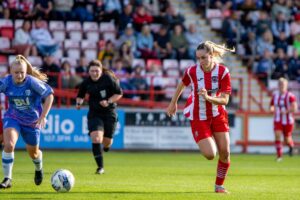 Jenna and the rest of the Exeter City women's team – currently members of the FA Women's National League Division One South West – are practising for their away match against Portishead Town FC. Upcoming fixtures include games against Swindon Town and Southampton Women's FC.
Is Jenna feeling confident about this season?
"I'm feeling really confident," she said. "We're currently on a four-game winning streak and we're top of the league.
"We're a good team and we all get on really well. It's the social side of things that's important too," she said, before adding: "But that feeling you get when you win – it's just unmatched."
To start your journey with Westcotts or to find out more about the opportunities and current vacancies available with the South West's leading firm of chartered accountants and business advisors, please visit the careers page of our website.