June 29, 2022
Category:

News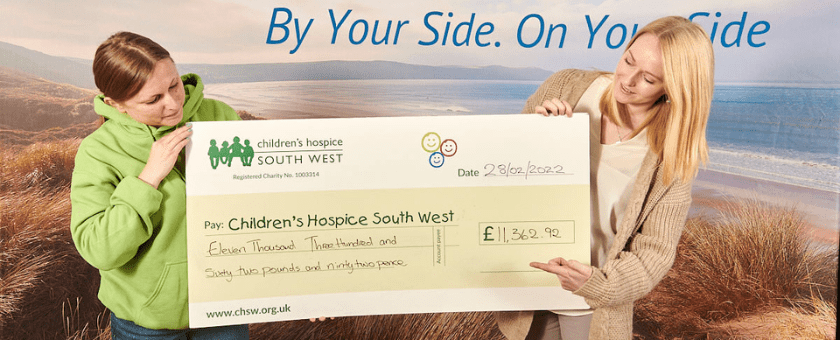 Staff at Westcotts have raised more than £11,000 for Children's Hospice South West (CHSW) during an 'incredible' year of fundraising for the charity.
Colleagues in our 17 offices across Devon and Somerset, chose to support CHSW in 2021, the charity's 30th anniversary year.
As part of our charity of the year partnership, our team members took part in a whole range of fundraising activities throughout 2021, including quizzes, half marathons and skydives. Many of us also wore our craziest shirts as part of CHSW's 'Shirty 30' fundraiser, and were able to network and raise money with other South West business as members of the CHSW Business Club.
We also sponsored CHSW's Incredible Hike walking challenge, with Partner and Head of Corporate Social Responsibility, Ian Huggett, among those who laced up their walking boots and set off on a sponsored stroll for the charity.
And, to round off a busy year of support, Westcotts was also the headline sponsor for CHSW's magical Narnia-themed 30th anniversary gala dinner at the Woodbury Park Hotel and Golf Club in Exeter in November.
Presenting a cheque for the total amount raised of £11,362.92 to CHSW area fundraiser Henrietta Olsson, Amy Gilmore of Westcotts, said: "For our first ever charity of the year, it was important to us to choose a charity which provide support across the South West, where our teams and most of our clients live and work. It was very fitting therefore that our staff chose Children's Hospice South West, a charity that is so well known for providing a vital service to families across the region
"It was fantastic to support Children's Hospice South West in its 30th anniversary year. We had a lot of fun raising money and were really inspired by learning more about this wonderful charity. We're absolutely delighted to present them with this cheque, which we know will make a difference to families here in the South West."
CHSW supports more than 500 children with life-limiting conditions and their families across the South West. The charity's three children's hospices – Little Bridge House in Devon, Charlton Farm near Bristol, and Little Harbour in Cornwall – offer vital respite and short breaks for the whole family. Support includes specialist play, music therapy, activities for siblings, palliative, emergency care and end-of-life care, as well as bereavement support and specialist medical care – all available 24 hours-a-day, 365 days-a-year. During the pandemic, the hospice adapted its care to ensure Covid-safe support wherever and whenever families need it, including for the first time ever, in families' own homes.
CHSW fundraiser Henrietta said: "We are just so thrilled to have such incredible support from the Westcotts team in 2021 – and honoured that the company chose CHSW as its first ever charity of the year.
"They have been brilliant ambassadors for CHSW and their efforts will not only make a huge difference to the families we support, they have also helped raise vital awareness of the charity across Devon and Somerset."