July 10, 2023
Category:

News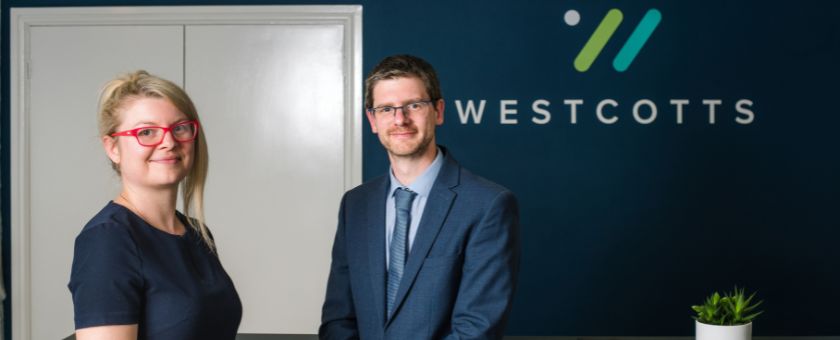 Two new promotions announced for Westcotts' Axminster team
We are celebrating two new promotions in our Axminster office. Directors Robyn Gifford-England and Tom Stuckey, both based in our Axminster office, have each been appointed to the role of Partner.
Robyn joined the firm as trainee nearly ten years ago after graduating from university. She has quickly progressed through the firm and manages a wide portfolio of clients, including personal tax, corporates, not-for-profits, and audits.
Robyn said she felt a mixture of delight and relief when she found out she had been given one of key roles at Westcotts.
She said: "It's something I've wanted for a long time, so I was absolutely over the moon when I found out.
"I started here right after university – it's been my first and only job and I love it. I work with a great team and there's always been plenty of opportunity for progression."
Robyn is part of Westcotts' charity and technical teams and is involved in accounts preparation and ensuring high accounting standards are delivered across the firm.
Robyn, a keen ten-pin bowler in her spare time who has competed at a county level, said she's looking forward to the challenge of her new role. "It's extra responsibility but I know I'll be well supported," she said.
Colleague Tom Stuckey is also celebrating his promotion to Partner. Former biology teacher Tom Stuckey joined Westcotts in 2009 and qualified as a Chartered Certified Accountant four years later.
Tom specialises in the charity and agricultural sectors and has built up a solid client base in and around his local town. Tom grew up in Axminster and knows the area well.
"I think that really helps," he said. "My parents are farmers here and I know lots of other businesses. It means that when you're working with clients or trying to find new clients, word-of-mouth still counts. It extends your network that bit further."
Tom said he was pleased to be taking on a more senior role within Westcotts, which will mean a larger client portfolio and more responsibility managing the day-to-day running of the Axminster office.
"It's the team here more than anything that make it a great place to work,'" said Tom. "It's a really good-sized firm in the sense that it's big enough that you have colleagues with different specialisms that you can call on, but small enough that you feel you know all of those colleagues."
Tom's outside interests include woodwork and art. He's also involved in Axminster Young Farmers Club in an advisory role.