Westcotts backs Bridgwater United for second season
This week we have announced our continued sponsorship of Ellie Mitchell, goalie for Bridgwater United FC Women's team for the 2023/24 season.
We will be continuing to sponsor Ellie for the new season, which will support her and the club with equipment, match day and training costs.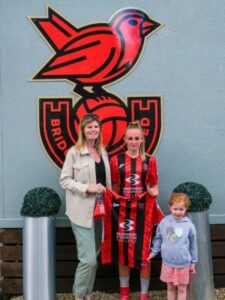 On the day the country watched the Lionesses historic participation in the World Cup Final (20th August), the Bridgwater United team faced Exeter City Women on their home turf. We were also delighted to be matchday sponsor, which saw Exeter City triumph with a 5-1 win. Jenna Markham, trainee at our Axminster office, was spotted scoring the Grecians fourth goal, in the second half!
Stay tuned for the rematch in April next year.
Sarah Murray, Bridgwater United WFC Chairwoman said, "We are extremely grateful for the continued support from Westcotts to both the Club and the women's game, through matchday and player sponsorship. As a club we continue to 'support local' in our mission to work with like-minded, community focused organisations which will play a huge part in achieving our ambitions on and off the pitch."
Kelly Davies, Partner at the Bridgwater and Somerton office said, "We are extremely proud to be continuing to sponsor Ellie Mitchell at Bridgwater United FC this year. Supporting women's football and inspiring young girls to participate in the sport is very important to us. The club has been a key part of the community since it was founded in 1990 and we are delighted to be playing a small part in continuing its growth."