February 27, 2023
Category:

News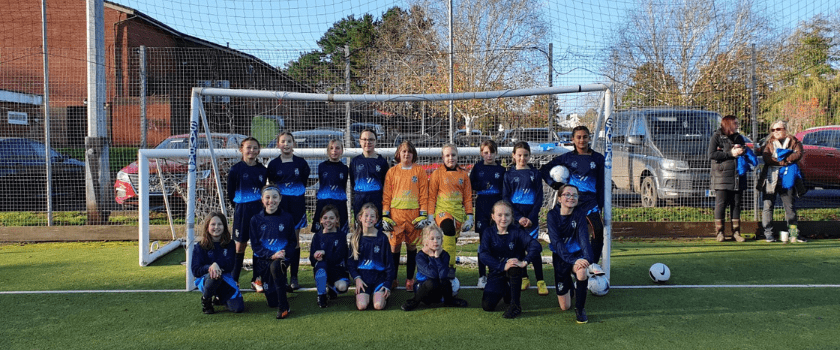 Westcotts proud sponsors of Crediton Youth FC's Under 10 Girls
Westcotts is proud to be the main kit sponsor of the Crediton Under 10 Girls football team.
The Crediton Youth Football Club consists of over 160 boys and girls from the ages of seven to eighteen.
With FA qualified coaching staff, the club wants to be known as the place for young people to receive quality football training in the area.
Westcotts sponsored the team and a new kit for the Under 10s Girls team to show support for the grassroots initiatives taking place within the community. Westcotts is also very proud to be supporting the girls' team in particular — to encourage more girls into the sport.
The new blue kit features the Westcotts logo while the goalkeepers get a vibrant orange to yellow ombre kit also featuring the firm's logo. The girls' team are delighted with their new kit and wearing it proudly for each game.
As football kit can be quite costly, the Under 10s Girls had been using second-hand kit, however Wescotts' sponsorship has meant that the girls now have a kit they can call their own.
"It has meant that our girls play in a kit that was specifically bought for them rather than using second hand kit and shows they are valued as much as the boys' teams," said Daniel Brenchley, on behalf of the coaches at Crediton Youth FC.
"The club is only too aware of the economic climate for businesses and parents, so we appreciate Westcotts even more so because football kits aren't cheap."
"Since the Lionesses won the European Cup, we have seen a big uptake in girls' football and have seen the popularity increase in women's football."
Crediton Youth FC provides a safe and fun training environment for both boys and girls. They also have opportunities to play in competitive games on behalf of the club. With the recent uptake of girls taking an interest in the support, it's more important than ever that as a local firm, we are supporting grassroots community teams in the area.
"It's great to be able to support a youth team in a community that we serve, and the girls really love their new kit! The team is continuing to grow with new girls joining, being inspired by the success of the Lionesses!" said Jo Carr from Westcotts.
Coach Daniel Brenchley says the opportunities for the girls doesn't just stop at the training.
"Our girls play in the Howdens Devon Girls Football League where we play other Under 10s Girls teams from across Devon," said Daniel.
"We also organise football trips to watch Exeter City Ladies all as part of the footballing exposure for the girls."
For more information about Crediton Youth FC, visit www.creditonyouthfc.co.uk