July 11, 2020
Category:

Success Stories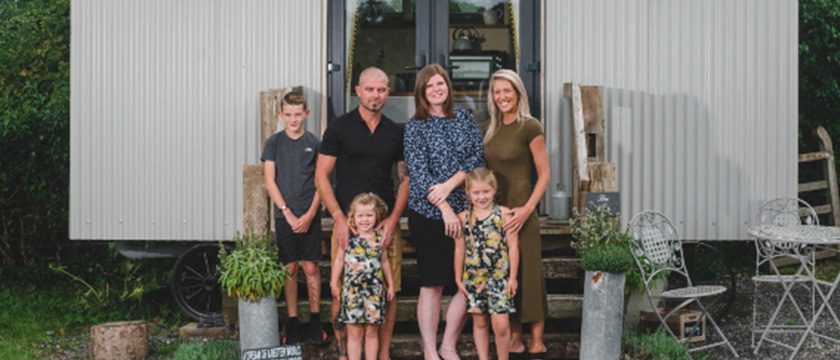 It started as small patch of land, a place to store sawn logs, woodchip and machinery. Today, as well as a tree-surgery depot, Old Oak Farm is a thriving wedding venue and holiday retreat, right in the heart of the beautiful Somerset countryside.
Owners Andy and Rebecca Jones have worked tirelessly for more than 15 years – through highs, lows and a pandemic – to create a business that works for them and their three young children.
All along the way, they have received constant advice and guidance from our team at Westcotts Chartered Accountants, who have helped the couple adapt and grow their business into a real success story.
"It's been incredible, really," says Rebecca, putting the finishing touches to the vintage-style marquee and hand-built stable bar before tomorrow's wedding booking. "To think this was once just a strip of land used to grow potatoes."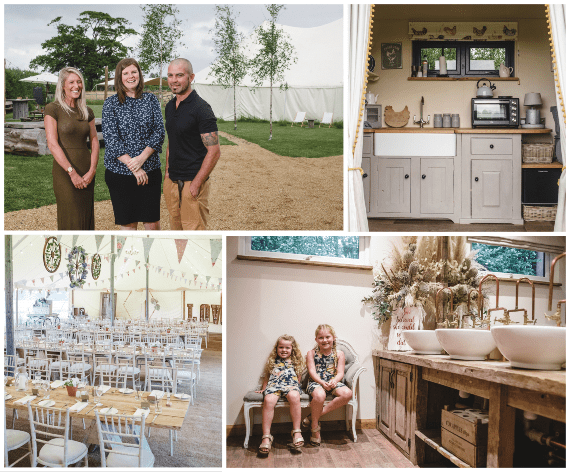 Old Oak Farm, near the South Somerset village of Curry Rivel, has been in the Jones family for generations, but much of the land and buildings were sold off when Andy, now 43, was just 17. Back then, he was just starting out as a tree surgeon and managed to buy a small piece of the land to use as an area for logs and woodchip.
When he met Rebecca, a design student, 15 years ago, he shared his dream that he would one day love to be the fourth generation of his family to live on the farm.
"So I said, right then, let's do it!", says Rebecca. "We've got to start the ball rolling somewhere. We bought a mobile home and lived in it on site."
The plan was to run the tree surgery business while living in temporary accommodation until the couple had planning permission to build a house on the land.
"We ended up living in that mobile home for seven years with two young children," says Rebecca, explaining that the planning process took far longer than either of them had imagined. At one point, everything ground to a halt because a team of archaeologists had to be brought in to check the land for possible artefacts.
"We were in that caravan the whole time," added Rebecca. 'It was a real struggle, mainly because of the lack of space." But, amid the chaos came a great plan.
"We started the wedding business from the small dining table in that caravan," says Rebecca. "We were allowed to do just five weddings a year which doesn't sound like a lot, but we were doing it by ourselves, as well as the tree surgery work."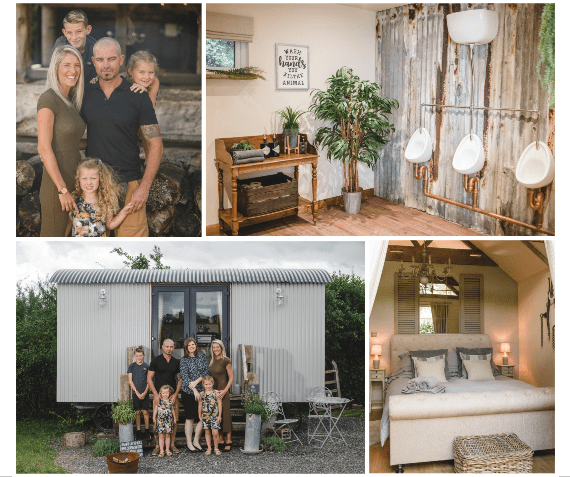 In 2015, with the couple now living in their newly built home, Kelly Davies, a Director in our Bridgwater and Somerton offices, advised the couple to form Old Oak Farm Ltd. Under that umbrella, the Joneses could still run the tree surgery business and have room to grow their now blossoming wedding business.
"Kelly was really helpful, working out wages, salaries, dividends, all of that, while still advising us on what was best for us," says Rebecca, adding that Westcotts also take care of their accounts, payroll and VAT, as well as offering broader business advice. "It's very different going from being a sole trader to a limited business. We were really grateful for the support Kelly gave us early on."
Old Oak Farm can now hold up to 40 events a year. The venue now has a beautifully bespoke toilet block, built by Andy from reclaimed timber to look like stables. Andy has also been hard at work, constructing two authentic-looking shepherd's huts, which the couple now rent out on Airbnb, adding another income stream to their business. Another hut is currently in production. Next year, there are plans to build a permanent barn-style building as a more weatherproof, all year-round alternative to the marquee.
"I'll be honest, we're so ambitious," says Rebecca, laughing. "It's not that we're not happy but there's so much scope here and so many options to have quite an empire. We're both such hardworking people that I know we can do it. We're not dreamers. We get on and do it for us and for our children's futures."
Rebecca says she can't quite believe how far things have come and sometimes takes a moment to reflect on what she and her husband have managed to achieve.
"When the guests come through that gate and you serve them a glass of crisp prosecco and they're toasting the marriage of a friend or family member, you can hear them sometimes and they're just in awe of the venue," she says. "The comments you hear are just amazing," she added. "I sometimes just stand quietly in the corner and take it all in. It's really rewarding."
Rebecca and Andy are full of praise for Westcotts, in particular Kelly, who has become a 'dear friend' and whose business advice and skills has given them the confidence they need to take Old Oak Farm forwards.
Kelly says she's proud to be part of their story. "I feel incredibly fortunate to have been with them as Rebecca and Andy have grown their business," she says. "They are so innovative and always make the best of everything. They are doing really well, despite the massive challenges of the pandemic. I'm excited to see what the future holds for them."