March 9, 2023
Category:

Success Stories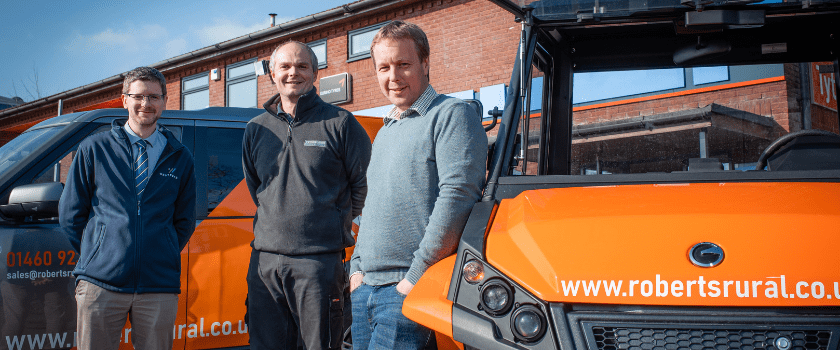 Success Story – Roberts Rural Ltd
They say never mix business with pleasure, but for two of Westcotts' clients in Somerset, doing just this has proven to be a winning formula.
When brothers-in-law and businessmen, Ed Cousins and John Parry decided to start a new venture together, Tom Stuckey from Westcotts was on-hand to provide them with all the business advice they were looking for.
Mechanic Ed, along with his wife Emma, were already running Tytherleigh Vehicle Electrics Ltd in Chard, while Emma's brother John owned Treeline Arboriculture Ltd in nearby Membury, near Axminster.
Relatives Ed and John joined forces last year to establish a new start-up family-run business called Roberts Rural Limited, when they spotted a gap in the market for selling new and used agricultural UTVs, as well as parts and accessories in the South West.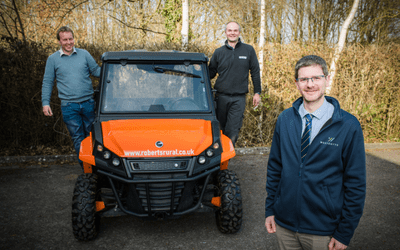 They quickly became an authorised retailer and exclusive distributor for Corvus in the region, selling a range of electric, diesel, and petrol vehicles to farming communities in Somerset, Devon, and Dorset. With their strong customer base, Ed and John can show off the UTV capabilities with the use of several demonstrator vehicles.
Ed says, "These UTVs are great for farmers and landowners, they really make a difference to working more effectively and efficiently. It means they can travel much greater distances around their farms and across their land, moving stock around and the vehicles have many uses, they're completely multi-purpose."
Tom Stuckey, a director for Westcotts based in the firm's Axminster office, has been providing accountancy and business advice to both Ed and John for several years.
When Roberts Rural, the brainchild of Ed and John, came about, it was Tom who helped the two business partners to decide that setting up as a limited company was the best way to go and best suited their needs.
"Working with John, Ed, and Emma is really enjoyable. It's always exciting to be able to help new business owners realise their dreams," says Tom. "By collaborating with them and understanding what it was that they wanted to achieve, I was able to help them confidently take the leap in setting up the new business and guide them through the process, avoiding some of the common pitfalls. It also meant they had the accountancy knowledge to make a real success of it."
While Ed and John's two other businesses, Tytherleigh Vehicle Electrics and Treeline Arboriculture, will continue to run separately, the brothers-in-law will combine their knowledge and expertise for the benefit of their new company. Roberts Rural will operate from their Chard base.
As part of the holistic package of support that Tom has provides Roberts Rural, he was able to review and advise on their business plan, answer any questions, and look at pinch points when it comes to cash flow. He also explained various company structures and recommended the most suitable solution.
As well as this, Tom was able to advise Ed and John on compliance issues, the best bookkeeping software to use, VAT registration, payroll schemes, pension auto-enrolment, using capital allowances, director remuneration, and dividends. In addition, he deals with all their personal tax affairs, account preparation, and corporation tax return filing.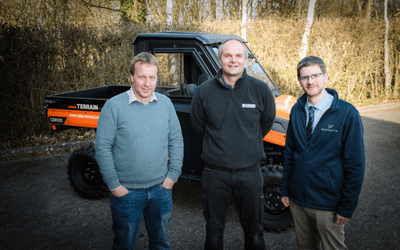 John says, "Tom has been incredibly helpful and played an integral part in helping us through every aspect of setting up the business. Westcotts have been very supportive of what we do and what we're trying to achieve."
It was the jargon-free approach taken by Westcotts that John and Ed found most refreshing, "For people who don't fully understand the process they are about to go through, finding someone like Tom who is there to guide you and point you in the right direction has been invaluable. Westcotts have been really accommodating and they've made everything much simpler and easy to follow, so you don't feel lost along the way," John says.
Tom, who went to school with Ed and John, says he's looking forward to helping the two company directors to grow their businesses for many years to come.
"The whole team at Westcotts is approachable and can provide a range of services and advice to help new businesses. Whether it's your first business or a new venture as an experienced entrepreneur, we can tailor our support to meet your needs and help you progress.
"Our knowledge and expertise mean we can explain obligations around compliance in an easy-to-understand way and highlight common problems that start-ups will want to avoid."
Ed and John are now concentrating on building Roberts Rural for the future, "We want to become a one-stop shop, provide a range of solutions and a full-service package to all our customers in the agricultural sector in the local area," says John.
"We're excited about our future growth, adding more dealerships and services and really establishing ourselves as a business with a great reputation for customer service and continuing to deliver."
For more information about Roberts Rural visit www.robertsrural.co.uk