July 6, 2019
Category:

Success Stories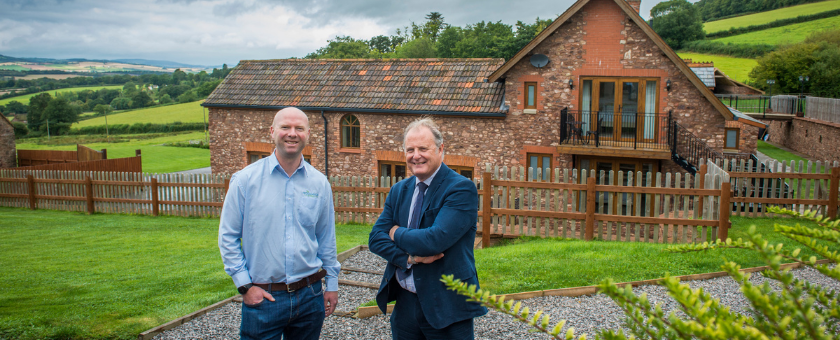 At Westcotts we go the extra mile to share our expertise and advice with our clients, and none more so than for our long-standing client, Woodlands Retreats.
Woodlands Retreats is a holiday property management company, run by Director Paul Crang (pictured above on left) and his family. The agency manages beautifully refurbished luxury properties that cater for family gatherings, hen parties and more across Somerset. The company, which also provides glamping, boutique-style accommodation each year for visitors to the Glastonbury Festival, has been operating since 2006.
However, its relationship with Westcotts dates back far longer.
We work closely with the Crang family to look after the accountancy needs of their arable family farm, Courtry Farm, near Yeovil, and have done so, in one form or another, since the 1940s. Westcotts Partner Phil Butterworth (pictured above on right) has supported the family with its ventures since the late 1980s, and prior to that, his grandfather and father were their trusted advisors.
Phil said: "We provide an all-round service for them, and are trusted by Paul and his family, who come to us for all sorts of things. We are really hands-on, and in a way, have become almost an extension of the business."
Woodlands Retreats began life when Paul and his family decided to diversify, refurbishing and renovating four underused properties owned by the family into holiday properties. Thanks to our connections and strong network of clients, Woodlands Retreats acquired the management of two additional properties to their portfolio – Rock Farm and Smokeham Farm.
Phil added: "One of my clients, a trust, which I am also a trustee of, had two properties that they really didn't know what to do with. When we decided to operate them as furnished holiday lets, I immediately thought of Woodlands Retreats. The trust approached the company and Woodlands Retreats carried out a feasibility study on one of the properties, then took over the operation of it, before adding management of the second.
"I had seen the way Woodlands Retreats had managed their own properties and knew that the trust would benefit from that experience. They also interact closely with my fellow trustees on operational matters and I know they are regarded as being well respected and professional in their approach.
"Woodlands Retreats is a great company. It's a growing business which is always on the lookout for more beautiful properties in the area, and they certainly have the experience to refurbish and manage them expertly."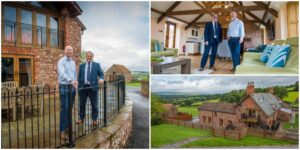 Woodlands Retreats now manages four additional properties alongside the four that it owns. The company is currently renovating another property, due for completion in May next year, and has two further properties due to be managed as part of the portfolio later this year.
A true family business, Paul runs Woodlands Retreats with help from his parents, Helen and Richard, and is also a partner in the family's farm. His brother-in-law Ed Brown is the company's Business Development Manager.
From support with Capital Gains Tax all the way through to advice on personal tax issues, we are always on hand to help the growing and developing business with any accountancy requirements.
Ed said: "Woodlands Retreats undoubtedly benefits from working with Phil, his senior manager, Dave Bonser, and the team at Westcotts. When you have a complicated business structure, with different businesses all under one umbrella, it is invaluable to have a team in place that truly understands the link between each one.
"Having accountants who understand how our businesses overlap allows us to have meaningful conversations. They know how we operate, and we have been ably supported by them for many years. Our finances can be very complicated but Westcotts' expertise across all aspects of the business has supported us – their advice across the board has helped all our businesses work together.
"They have an office just up the road from us and we can easily pop in to sign papers or get advice. Westcotts is a large regional firm with a local feel."
If you would like us to write a case study for your business, please let us know.