In Focus: Mid Devon
Over the years, I've learnt that Devon is about much more than just its coast and cities. The towns, industries, and people in the centre of this very special county are just as important to the future of the region as anywhere else.
I work with a diverse range of businesses across Mid Devon, which includes Tiverton, Cullompton, Crediton and the many villages and hamlets in between. Everyone from agricultural workers to hairdressers, electricians, mechanics, and builders, are working hard to boost the region's profile.
And it's working. This well-connected area seems to be enjoying something of a resurgence, with manufacturing and construction industries in particular seeing a rise in trade. Demand for houses in Mid Devon, especially around the market town of Tiverton, has risen significantly in recent years.
In the longer term, the local council is looking to grow the area's economy by creating higher paid, higher skilled jobs that will meet the needs of a growing population. It's hoped these ambitious plans will help develop Mid Devon as an important sub region of Exeter.
What's in store?
The focus of the strategy for Mid Devon is about developing the right conditions for growth. What this means is:
Supporting local employment and skills
Making the most of the unique natural environment surrounding the area's towns and increasing the vitality of these historic areas
Providing the right infrastructure, including decent broadband and workspaces
Growing the local economy in terms of the tech, innovation, and green energy sectors
Building on the area's strengths, such as agriculture, plus its thriving food and drink scene
Heading in the right direction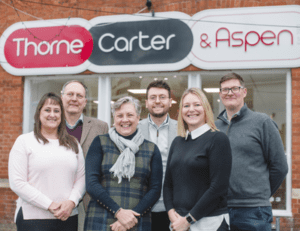 The long-term goals for Mid Devon certainly seem impressive and there is a widely shared desire to make sure this region gets the recognition it deserves.
The work I do with the clients on my patch is enough to make me realise that it's an exciting time to be here. Many firms are doing really well and are looking to Westcotts to help them plan for the future of their business.
One success story was the merger of Thorne, Carter and Aspen estate agents in Cullompton. I spoke to the client recently and he was describing how well it was working out and how the business had benefitted from the merger.
A couple of Westcotts' manufacturing clients also enjoyed a successful year in 2022. One manufacturer has seen a boost in trade as the construction industry got back on its feet after the pandemic.
Another local firm which our Tiverton office overlooks, Heathcoat Fabrics, is working with NASA again in developing a new stronger fabric to be used on a parachute to land on Mars.
These are just a few examples of how businesses in Mid Devon are looking ahead and working to promote growth across different industries in the area.
Overcoming the challenges
Of course, there are and will be struggles ahead. Like most places, footfall in Mid Devon's towns is down and the cost-of-living crisis is affecting how and where people spend their money in the area's important retail sector. People have gotten in the habit of shopping online and this is certainly having an impact on high street retailers.
In fact, many of Mid Devon's smaller shops and businesses are reducing their opening hours. In addition, the area's hospitality industry, including hotels, pubs, and restaurants, are, like many others up and down the UK, still struggling to get staff.
But people here are optimistic and not afraid to adapt and survive during these challenging times. Many retailers are changing what they sell to attract more people and a more diverse customer base. There also seems to be some diversification in the types of shops on the high street.
This is important because Mid-Devon is a place where face-to-face contact still matters. Times change but you can't beat this kind of shopping experience, which can't be matched online. It's one of the great benefits of living and working here – there is so much choice right on the doorstep.
Celebrating our assets
Crucially, Mid Devon's development as a region is about making the most of what we already have here, including the area's natural beauty, our popular attractions, transport links and schools:
Natural beauty: Mid Devon is home to the Blackdown Hills, an Area of Outstanding Natural Beauty (AONB). The region also shares part of two National Parks, Exmoor and Dartmoor, several sites of special scientific interest, forests, woodlands, and recreational parks. Most of the region's landscape is cared for by farmers or local authorities.
Attractions: Bickleigh Castle, Coldharbour Mill, the Bear Trail muddy assault course are just a few of the family-friendly attractions on offer for visitors and locals. Country gardens, heritage sites and local arts and culture are also within easy reach.  In the towns, Tiverton Market has enjoyed a renaissance, with a range of new traders, events, promotions, and features raising the venue's profile locally and further afield. There are plans to enhance and promote the market further, with initiatives to attract traders and customers, including the launch of a new café.
Transport: We've got a lot to celebrate in terms of travel infrastructure. Transport links are strong in Mid Devon, with the fastest direct train into London from Tiverton Parkway station taking 1hr 54 mins. The scenic Tarka Line connects Mid Devon's Yeo Valley with Exeter and the North Devon coast. Exeter is a short drive away and car journeys from the area to London via the M5 and M4 take around 3 hrs 40 mins. The South West Falcon (coach) stops in Cullompton, transporting passengers to Plymouth and Bristol (via Bristol Airport).
Schools: Blundell's, a co-education and boarding independent school in Tiverton is one of the reasons many families look to relocate in this area. Uffculme School, a co-ed state academy (rated outstanding by school's inspectorate Ofsted) is also a draw for buyers to the villages east of the M5.
So, let's hear it for Mid-Devon
There's certainly a lot to look forward to in this unique part of the world. Many more people are starting to realise the benefits of living in a place located in the heart of a fantastic county, with thriving market towns, impressive schools, and transport links, plus a business and industry culture that's embracing change. I'm excited about helping them on their journey.