June 28, 2022
Category:

News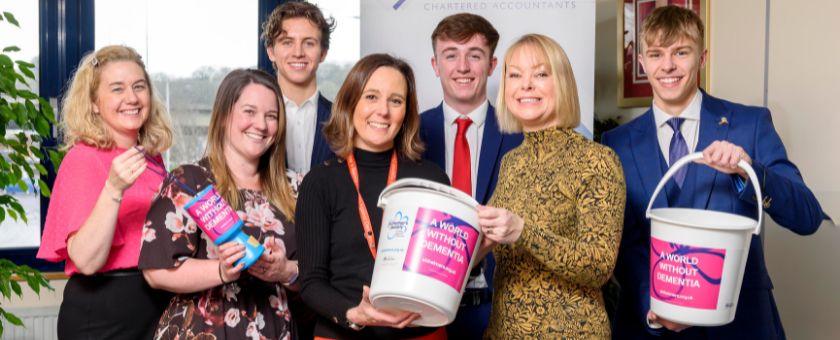 We are thrilled to confirm that the UK's leading dementia charity, Alzheimer's Society, is our charity of the year for 2022.
Our team members chose Alzheimer's Society from a shortlist, which we created after inviting charities to apply to be the Westcotts charity of the year. Teams from across the firm are now planning a host of fundraising activities, including an epic 26-mile walk, to raise money for the charity.
We will also take part in Alzheimer's Society's Dementia Friends programme. This will include an information session for staff and other initiatives to ensure Westcotts is welcoming and accessible to people with dementia.
Alzheimer's Society provides information and support, funds research, campaigns to improve care and creates lasting change for people affected by dementia. The charity's research shows that 900,000 people in the UK have a form of dementia. Alzheimer's Society wants everyone affected by dementia to know that whoever you are, whatever you are going through, you can turn to them for support, help and advice.
Ian Huggett, Partner and Head of Corporate Social Responsibility said: "Dementia can have such a dramatic impact on the lives of people living with the condition and those who support them – and this struck a chord with the Westcotts team.
"While we will be raising funds to support Alzheimer's Society throughout the year, it's just as important for us to increase awareness and to educate everyone here at Westcotts. So, as well as taking part in fundraising activities, we will also be working to make our offices dementia friendly places and working with the team to help them become dementia aware by becoming Dementia Friends."
Dementia touches the lives of millions of people across the UK. Alzheimer's Society's Dementia Friends programme was launched to tackle the stigma and lack of understanding that means many people with the condition experience loneliness and social exclusion.
A Dementia Friend is somebody who learns about dementia so they can help their community by turning their understanding into action. These actions don't have to be time-consuming. From visiting someone you know with dementia to being more patient in a shop queue, every action counts.
Claire Frost, Alzheimer's Society Community Fundraiser said: "We are incredibly grateful to the staff at Westcotts for choosing us as their charity of the year. We're looking forward to working with them as they undertake a variety of challenges and fundraising events throughout the year ahead.
"Like all charities, our income has taken a huge blow due to the pandemic, while demand for our vital dementia support services has sky-rocketed. Without the generosity of supporters like Westcotts we simply could not keep up. The funds they raise will make a big difference to the lives of people affected by dementia and their families who have never needed us more.
"We're also delighted that they are getting involved in our Dementia Friends programme, making sure that people with dementia are understood, included and respected."
On 10 September, members of the Westcotts team will be lacing up their walking boots to tackle Trek26, a 26-mile hike on the South Devon coast. The team is aiming to raise more than £3,000 by taking part in the challenge, which is organised by Alzheimer's Society. Other fundraising activities planned for the year include cake sales and sporting challenges. We will also be collecting for Alzheimer's Society at the many shows and events we attend through the year.